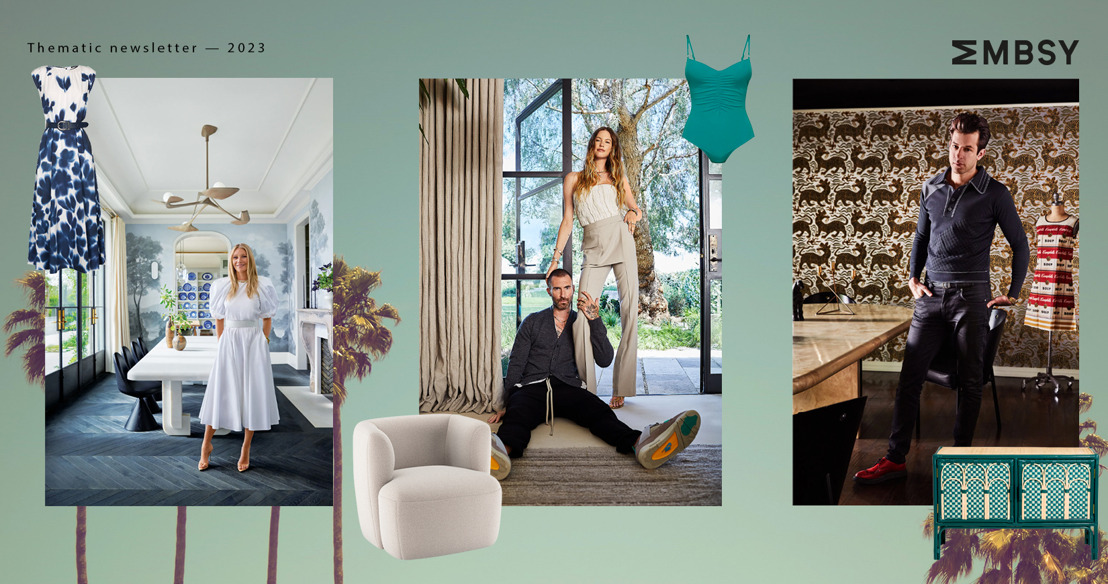 Unveiling the Hidden Gems and Unique Interiors of Celebrities' Homes
Have you ever wondered what it would be like to step inside the homes of your favorite celebrities? Do you ever catch yourself daydreaming about the luxurious interior designs, impressive art collections, and breathtaking views that these A-listers enjoy on a daily basis? Rest assured, you're not the only one. Each home tells a unique story, showcasing the residents' personalities, tastes, and interests. And while we may not be able to afford the same level of opulence, we tried our best to provide affordable alternatives from our beloved brands, so you can easily pretend you're in an episode of Selling Sunset. Let's have a look inside!
---
The Healthy Home of Gwyneth Paltrow
Gwyneth Paltrow is known for her dedication to health and wellness, so it's no surprise that her home reflects that philosophy. From clean air to non-toxic products, her home is designed to promote a healthy lifestyle. Oh Gwen, you're an example to all of us!
Source: Architectural Digest
HEALTHY HABITS START AT HOME
Paltrow is also a big proponent of using non-toxic and organic products in her home, from skincare and personal care items to linens and furniture. Give your home that same undeniable glow as Gwenyth's. YOKUU fits the actress' healthy mindset perfectly. These cleaning products are 99% vegan, kid- and animal-friendly and contain no microplastics. YOKUU's products ensure that not all microbes in the home are killed, but support a healthy microflora in your house. Veton, high-end Belgian-made charging stations fit perfectly in the driveway of your Healthy Home. Veton's charging stations excel in elegance and durability. A true asset to the environment and your exterior. To keep things completely clean, you can enjoy healthy snacks in your kitchen. Like these from OKONO and Zenko.
GET GWYNETH'S LOOK
Gwyneth Paltrow is known for her classic and timeless style. To recreate her look, opt for wardrobe staples such as a a long classy dress, like this one from Caroline Biss. Try wearing a monochromatic outfit in shades of blue and beige. Pair them with elegant shoes from Tamaris or Unisa. Classy style also requires elegant underwear, match your stylish attire with lingerie by Chantelle.
---
The Retro Residence of Mark Ronson
Mark Ronson, the Grammy-winning musician and producer, is known for his love of all things retro, and his Los Angeles home is no exception. Ronson's home is a mid-century modern masterpiece that blends vintage charm with modern amenities.
The first thing that stands out about Ronson's home is the vintage furnishings. From the geometric patterns on the wallpaper to the colorful upholstery on the furniture, every detail of the home screams mid-century modern. ​
Source: Architectural Digest
THE VINTAGE CORNER
One of the standout features of the living room is the use of warm, natural materials. The space features hardwood floors, a wooden coffee table, and a cozy brown leather sofa. La Redoute has retro furniture that will fit perfectly into your retro inspired home. Let your vintage colors shine with La Redoute Intérieurs!
La Redoute
GET MARK'S LOOK
If you want to look as rock and roll as Mark Ronson in his signature retro style, combine a good pair of jeans with a jeans shirt. Like this shirt from GUESS or a good pair of dark jeans from Lee Cooper. Mark Ronson often matches his tailored suits with a retro-inspired shirt. Choose a shirt with a bold pattern such as a floral or paisley print. These items from SUN68 are a good inspiration. Mark is also known for his love of statement accessories. To mimic his look, add a touch of personality to your outfit with a statement accessory such as a bold shoe from Floris van Bommel.
Guess - Lee Cooper - Floris van Bommel ​
​3 x SUN68
THE ROCK & ROLL KITCHEN
What is more rock and roll than rolling out of bed for a cup of coffee after a wild night. The Barista Express Impress from Sage Appliances is perfect for blending into your retro interior. A coffeebrown watch from Longines will match your espresso flawlessly.
Sage - Longines
---
The Picture Perfect of Adam Levine and Behati Prinsloo
Adam Levine, the frontman of Maroon 5, and his wife, Namibian model Behati Prinsloo, live in a suburban home in Los Angeles, as stunning as the looks of this power couple. Their house is a perfect example of modern architecture and design, with clean lines, minimalist decor, and a focus on functionality.
Source: Architectural Digest
THE SERENE OASIS
The bedroom is simple and elegant, with a focus on comfort and relaxation. The master suite is particularly impressive and it features a neutral color palette with a variety of soft textures and fabrics to create a cozy and relaxing atmosphere. The centerpiece of the room is the king-sized bed, which looks very much like La Redoute's and is very comfortable. The bedroom also includes a sitting area with a pair of comfortable armchairs and a small side table, creating a welcoming and intimate space for reading or relaxing. The best way to unwind is with the Ganō Care CBD-infused scented candle which you can put on your nightstand while reading a good book before going to sleep.
La Redoute - Gano Care
GET BEHATI'S LOOK
Behati Prinsloo is known for her effortless and laid-back style. To recreate her look, opt for comfortable and casual pieces such as a pair of high-waisted white trousers from Juttu with a simple white blazer from GUESS or a denim jumpsuit from LolaLiza. Behati Prinsloo often accessorizes her outfits with boho-chic accessories such as statement jewelry. Try adding a statement accessory such as a Lore Van Keer ring or a pair of long pendant earrings.
GUESS - Juttu - LolaLiza -
2x Lore Van Keer
GET ADAM'S LOOK
Adam doesn't only have the moves like Jagger, he dresses like him too. With cool Floris van Bommel shoes and Brax pants, you are the king of the dancefloor.
GUESS - Brax - Floris Van Bommel
LIVING LIKE LEVINE
Recreate the look of the cozy sitting room with La Redoute Intérieurs. It's an inviting space that is designed for relaxation and comfort. The room features a warm and neutral color palette, with soft textures and plenty of natural light to create a welcoming atmosphere.
La Redoute
A PEACEFUL SWIM PARADISE
Another striking feature of the house is the outdoor space. The backyard is spacious and lush, with plenty of greenery and a pool. Combine a pool day with a good bikini from Chantelle or a green eye-catching swisuit from Anita and you are ready to sparkle. If you want to walk to your pool in style then the gold Freedom Moses slippers are your go to.
Chantelle - Passionata by Chantelle - Anita - Freedom Moses
---
Find more fashion inspiration in our pressroom.