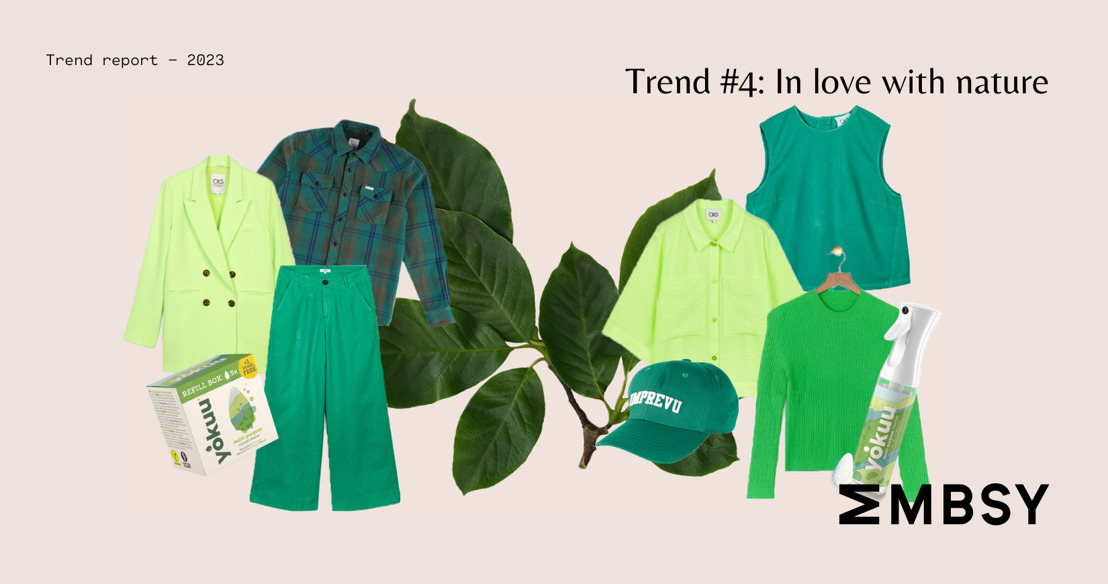 SS23 - trend 4: In love with nature
MMBSY's trend report for Spring Summer 23
In 2023, anything is possible. This year is all about reflecting on the past and seeing how we can improve moving forward. SS23 coming up means: new trends to keep an eye on. The new collections summarized in five trends:
A riot of colors

Back to the nillies

Luxury is in the detail

In love with nature

Comfortable elegance
---
Trend 4: In love with nature
Go local • sustainability is key • inspired by nature • natural beauty ​
Sustainability is finally trendless and has become a new way of living. More and more brands are trying to move away from fast fashion and want to produce more consciously. They are starting to prioritize eco-friendly materials and ethical production processes. Using sustainable products is coming naturally - pun intended - to more and more brands. How can you help? Shop local! Small steps go a long way. Why buy something that needs to be shipped when you can buy it here? No need to make it difficult when it can be that easy. We have amazing Belgian brands that are worthy of attention. Before buying something, read up on a brand to see if it fits your mindset. So, in 2023 even more than ever: support your locals!
Why look for things far away when you can just buy it here in Belgium? Our brands have a lot to offer, which shows in the SS23 collections. So, time to go local. Imprevu is a very on trend, eco-friendly brand that's against waste. That's why they have a limited drop each season. All pieces are produced in Europe. Some other Belgian treasures? CKS and Mayerline. Their purpose is to make women feel confident in their clothes. Mayerline consciously says no to trends and creates timeless pieces that fit every body, making young and more mature ladies shine in their outfits. In short: it's all about the fit and fabric, with a focus on natural and upcycled materials.
A.S.Adventure, Belgian outdoor specialist, strives to make the best possible choices for people and the environment, and this in every link of their business. Ingrained in their DNA are values such as fair trade, sustainability and respect for nature. Amazing and so necessary, right? British heritage brand Lee Cooper, which is now in hands of a Belgian family company, is THE key player in the denim world. In 2023, they will be putting sustainability high on the agenda by producing their jeans in a circular way. A pair of denim that exists of 99% natural fibres and that can be fully recycled… Where do we sign up?
The sustainability trend also pops up when it comes to footwear. Like vanHaren, a Dutch family brand that creates unique and high quality shoes at a great price. They care deeply about sustainability and guarantee good work circumstances. Freedom Moses equally contributes by planting a mangrove tree for every purchase made. On top of that, they donate shoes to Soles for Souls on a regular basis. This organization gives shoes and clothes to people in need, so that they have easier access to education or food.
Taking care of your skin and hair with products like Ganō Care and Phyto will do you and the environment good. They both use natural ingredients and do their best to be as sustainable as possible. Skin and hair products can often be very polluting, so using products like these can make a change. Other products often negatively impacting the environment are cleaning products. But Belgian start-up Yokuu is trying to change this with their line of cleaning products based on probiotics. It's totally vegan and cruelty-free, without microplastics or other chemicals and the packaging is a 100% made of paper. Sustainable and user-friendly, we say. As you can see, there's no need to look for sustainable brands all over the globe when you can find them right at your doorstep.
The new Belgian superfood brand Zenko is also a brand to keep an eye on. They travel the world with one mission: transforming ancient superfoods into healthy snacks that are beneficial for people and the planet. On top of that, thanks to their seed-to-snack model, all snacks are produced sustainably and transparently with respect for local farmers. Zenko is now introducing 'Water Lilly Pops', made from water lily seeds. The seeds of giant water lilies are harvested, dried, roasted and popped into a light, crunchy and healthy snack. Another local brand OKONO has good news for those who want even healthier snacking in 2023: OKONO has recently launched brand new keto bars. The bars are packed with natural ingredients and give an instant energy boost without affecting your blood sugar levels. So perfect for those who are going for a keto lifestyle this year, or those who are just in search for healthy and delicious snacking.
Top: A.S.Adventure - Freedom Moses - CKS - Ganō Care
​Middle: Mayerline - OKONO - Yokuu
​Bottom: Lee Cooper - Zenko - vanHaren - Imprevu