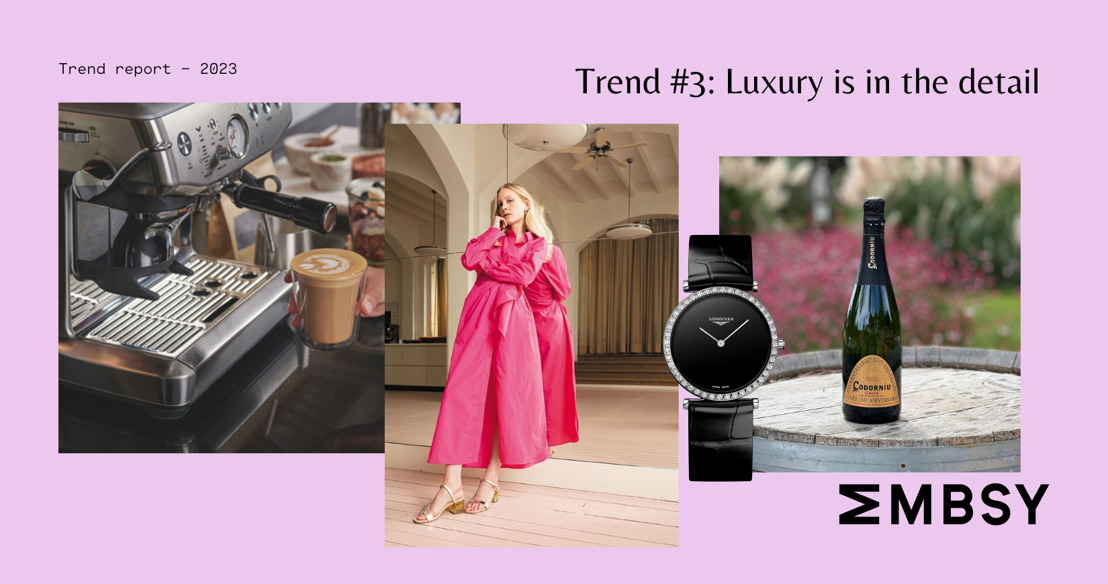 SS23 - trend 3: Luxury is in the detail
MMBSY's trend report for Spring Summer 23
In 2023, anything is possible. This year is all about reflecting on the past and seeing how we can improve moving forward. SS23 coming up means: new trends to keep an eye on. The new collections summarized in five trends:
A riot of colors

Back to the nillies

Luxury is in the detail

In love with nature

Comfortable elegance
---
Trend 3: Luxury is in the detail
Trendy tech • premiumization • innovation rules the nation • functional design
The Spring Summer collections of 2023 exude luxury. You don't have to be Anna Wintour to dress as chic as she does. Because honestly, what's in a name? In 2023, you get to be whoever you want to be. You do you! Premiumization is shaping the beverages industry more than ever and people are starting to care more about qualitative ingredients and packaging. They like to be surprised by what they see and taste. A good mix of luxury, and innovative and functional design is what we love to see in 2023.
Luxury is making a comeback. But this time around it's paired with functionality, both when it comes to fashion and lifestyle... This year, Pearle is all about innovative designs. Specs are a very visible accessory, so why not choose a design that draws attention? Wear your glasses like you do jewels and shine bright! Speaking of jewelry, a watch can have the same effect. Longines isn't only known for its watchmaking tradition, but also for its elegant and performant design. Very luxurious, very chic. Their new brand ambassador totally agrees. Jennifer Lawrence… It might ring a bell?
Cybex also commits to innovation and functionality this year. Besides their beautiful buggy designs, they make your walk in the park a real walk in the park. Jowaé also keeps on innovating. They're influenced by Korean skincare trends and continuously improve their products. Get that glow on, baby!
Next to innovative designs, people still heart functionality in 2023. Especially when it comes to fashion. Floris van Bommel footwear screams casual chic in 2023. Showing that elegant style and comfort blend perfectly. Every design comes with its own twist… And we're a fan! This trend is also reflected in kids' wear. Because little ones love to be chic and functional as well. You want your kid to match your style? Make sure to browse Naturino & Falcotto's latest collection.
Italians really do know how to make shoes. Take your kids on an adventure without having to worry. Want to be dressed functionally at the same time? Go check out the Betty Barclay SS23 collections. Their amazing price/quality value is totally worth it. But innovation reaches beyond just fashion. The beverage industry got a major makeover these last year(s) and keeps innovating one sip at a time. People want their drinks to have a luxurious look about them. Which means beautiful designed bottles, appliances and accessories.
Sage Appliances, as international leader of premium and innovative kitchen appliances is high on the charts when it comes to eye-catching designs. Want to stay at home and make coffee like you're a real barista? It's possible! Would you rather start or end the day with some bubbles? Codorníu takes Spain to your home with its premium cava. And its luxurious taste and color will add a touch of gold to your day. But it doesn't stop there, customers also expect packaging and ingredients to be out of this world. According to luxury, innovation, functionality and premiumization, the SS23 collections have all you're looking for!
As electric driving becomes more and more established, it will certainly remain one of the lifestyle trends for 2023. For many people, a charging station is a necessary evil that takes up too much space and marred the driveway. However, a charging station for your car doesn't have to be an ugly thing. Enter: Veton, Belgium's first designer charging stations that excel in elegance and durability. They are an asset for the environment and a real eye-catcher for your exterior. ​
Top: Veton - Longines - Floris van Bommel
​Middle: Naturino & Falcotto - Cybex - Codorníu
​Bottom: Sage Appliances