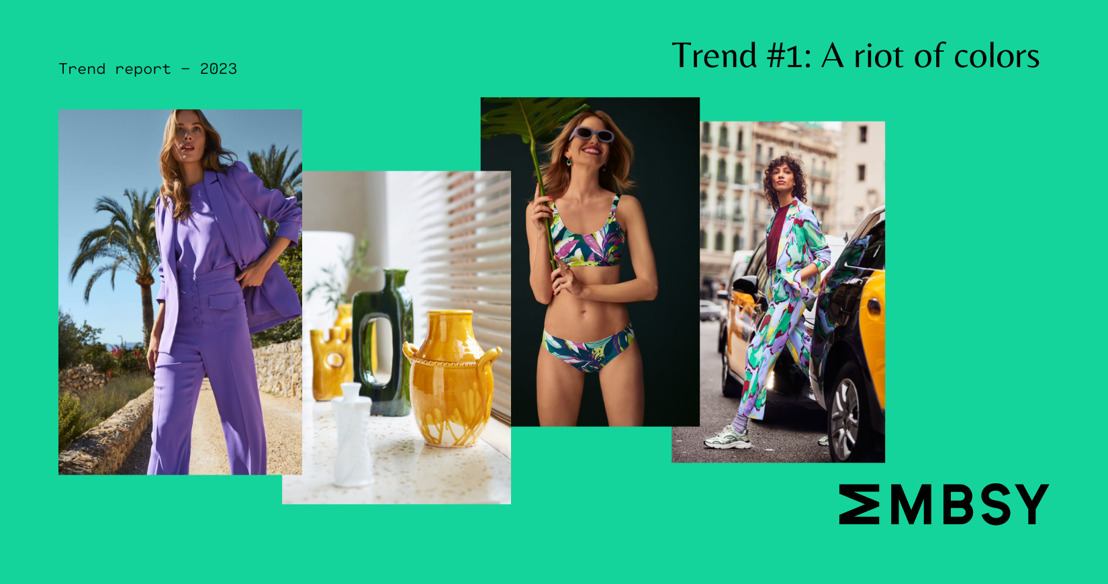 SS23 - trend 1: A riot of colors
MMBSY's trend report for Spring Summer 2023
In 2023, anything is possible. This year is all about reflecting on the past and seeing how we can improve moving forward. SS23 coming up means: new trends to keep an eye on. The new collections summarized in five trends:
A riot of colors

Back to the nillies

Luxury is in the detail

In love with nature

Comfortable elegance
---
Trend 1: A riot of colors
Happy colors • moodrise • roaring retro • vivid & vibing
BANG! It's as if a color bomb exploded on the catwalk of 2023. Along with the sunny weather comes lots of color. We can all use some positivity after a dark and long winter, can't we? What could be better than some happy, vivid colors for a complete moodrise? Dressing colorfully will have a positive effect on yourself and on the people around you. And please, don't be scared to choose patterns and color block with different hues. The more, the merrier. The most trendy hues of SS23 are lavender and green.
The collections of SS23 are all about bringing positivity and joy through happy tints and patterns. Anita and Rosa Faia provide us with both comfortable and functional designs. In this collection, they combine those two with some good summer vibes. Who told you lingerie couldn't brighten your day? Want to feel like you're on a Hawaiian beach? By wearing Banana Moon you definitely will. They hand you flowers, beach or nature patterns. Pick whichever you like!
We also see a lot of this colorful trend in our Belgian brands' collections. When talking about patterns, we immediately think of CKS. Choosing for a happy mix & match of hues like they do instantly brightens our moods. Let the color blocking begin! The new Caroline Biss collection is all about classic but timeless clothes with a touch of color. Who doesn't love that? LolaLiza also has a lot coming up for the collection of SS23. A new bridal collection with Flair and their spring 'Driving to the sun' campaign. So, let their funky dresses come your way. Want more of a happy-go-lucky vibe? One answer: Juttu. Their art is combining different unique fashion and deco brands. Check out their new vintage corner starting in 2023 to find some colorful treasures for this new year.
Entering a Veritas store instantly puts a smile on our faces, and in 2023 even more. Looking for a new hobby? We dare you to knit your own tops in one of their vivid wools (tip: green and lavender will definitely work in 2023). You CAN do it yourself if you want to! If it's not the case already, in 2023, make Veritas your go-to place for accessories, fashion and DIY. Also, don't forget about your shoes and socks. Yes, you can radiate happiness from your feet, too.
That's something Tamaris is aware of as well. Dopamine dressing is definitely a thing. Wearing something you love, will instantly boost your mood. They see happiness as lots of poppy colors, combined with light and airy canvas. Mixing all this with some Swinging Sixties retro vibes, we love! Combining different styles is the key to success. Joy and elegance, you can have both.
Want to feel good from dawn till dusk? You can! Using vibrant decoration at home will definitely do the trick. Happy house, happy life, or something like that. Try combining neutral hues with some very vivid items that draw attention. La Redoute Intérieurs will help getting you there.
If you're an extravert, being with friends can brighten your day. Stay in contact with your loved ones even if you're far apart, with Mobile Vikings, who has the best deals for you. Send your friends some feel-good quotes to give them a confidence boost from a distance. It's the little things in life.
As you can see, happiness comes in many ways. Time to find out what works best for you!
Top: Anita - Banana Moon ​ - Caroline Biss
​Middle: CKS - Juttu - La Redoute Intérieurs
​Bottom: Tamaris - Veritas - Rosa Faia