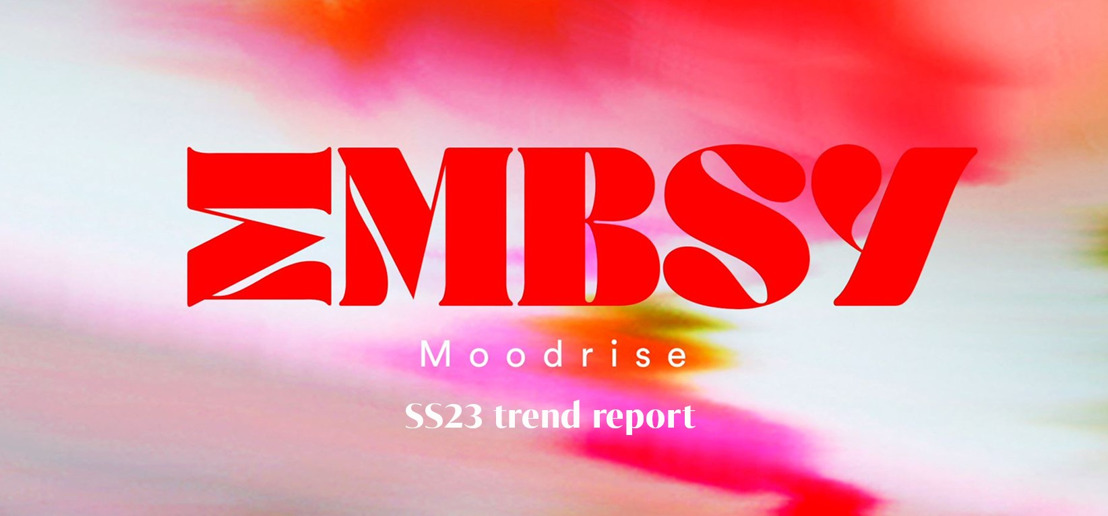 SS23 MMBSY trend report
MMBSY's trend report for Spring Summer 23
In 2023, anything is possible. This year is all about reflecting on the past and seeing how we can make it better moving forward. The nillies are back, and how! Retro is definitely trending. Lovers of nature welcome the changes in the clothing industry as the term 'sustainable' keeps on gaining more importance year after year. Looking fancy and elegant for all types of occasions is returning as the new normal. So, rock those heels, baby! Top it off with an explosion of vivid colors, and you're ready to face 2023 in style. ​
---
Trend 1: A riot of colors
Happy colors • moodrise • roaring retro • vivid & vibing
BANG! It's as if a color bomb exploded on the catwalk of 2023. Along with the sunny weather comes lots of color. We can all use some positivity after a dark and long winter, can't we? What could be better than some happy, vivid colors for a complete moodrise? Dressing colorfully will have a positive effect on yourself and the people around you. And please, don't be scared to choose patterns and color block with different hues. The more, the merrier. The most trendy hues of SS23 are lavender and green.
Top: Roger&Gallet - Anita Active
​Bottom: La Redoute Collections - La Redoute Intérieurs
---
Trend 2: Back to the nillies
Inspired by the year 2000 • preppy is cool for school • Y2K for the win
Aren't we all a bit nostalgic from time to time? What could be more fun than pimping old clothes or diving into your mom's or dad's old wardrobe? A trend to watch in SS23: Y2K. Yes, you heard it well: the nillies are back and better than ever! Dig up your former favorite items and relive them good ol' days.
Threw them all out? No worries. The Summer Spring 2023 collections are full of retro and nostalgic pieces. What type of 2000's baby are you? Crop tops and baggy jeans, or short skirts and suspenders? The choice is yours!
Top: BRAX – Guess Activewear – Marciano by Guess
​Bottom: Tamaris
---
Trend 3: Luxury is in the detail
Trendy tech • premiumization • innovation • functional design
The Spring Summer collections of 2023 exude luxury. You don't have to be Anna Wintour to dress as chic as she does. Because honestly, what's in a name? In 2023, you get to be whoever you want to be. You do you!
Premiumization is shaping the beverages industry more than ever and people are starting to care more about qualitative ingredients and packaging. They like to be surprised by what they see and taste. A good mix of luxury, and innovative and functional design is what we love to see in 2023.
Top: Floris van Bommel – Codorníu ​
​Bottom: Longines - Sage Appliances
---
Trend 4: In love with nature
Go local or go home • sustainability is key • inspired by nature • natural beauty ​
Sustainability is finally trendless and has become a new way of living. More and more brands are trying to move away from fast fashion and want to produce more consciously. They are starting to prioritize eco-friendly materials and ethical production processes.
Using sustainable products is coming naturally - pun intended - to more and more brands. How can you help? Shop local! Small steps go a long way. Why buy something that needs to be shipped when you can buy it here? No need to make it difficult when it can be that easy. We have amazing Belgian brands that are worthy of attention. Before buying something, read up on a brand to see if it fits your mindset. So, in 2023 even more than ever: support your locals!
Top: ​ A.S.Adventure - Yokuu - Lee Cooper
​Bottom: Imprevu
---
Trend 5: Comfortable elegance
Return to elegance • precious pampering • sweet wellbeing & beauty: you glow, girl!
SS23 is also about feeling beautiful, on the inside and out. Who said you can only look elegant on special occasions? In 2023, it's your time to shine! Put those sneakers aside and wear your favourite high heels whenever you like. Wearing elegant clothes will also make you feel fancy.
But, feeling good in your skin also implies taking care of yourself mentally. Try to take some time to chill and recharge if you need to. And yes, you can look good while being a couch potato. Put on some elegant but cosy fits (yes, they exist) and become the prettiest couch potato you can be. Want a healthy glow on your face, all day, every day? Find skincare that works for you and get your glow on! In 2023, self-confidence is key. Too uncomfortable to go all out? Tip: pretend you're the main character in a glam movie and fake it 'till you make it. Carrie Bradshaw, who?
Top: Lore Van Keer – JBC Chilltime
​Bottom: Ganō Care – Mayerline