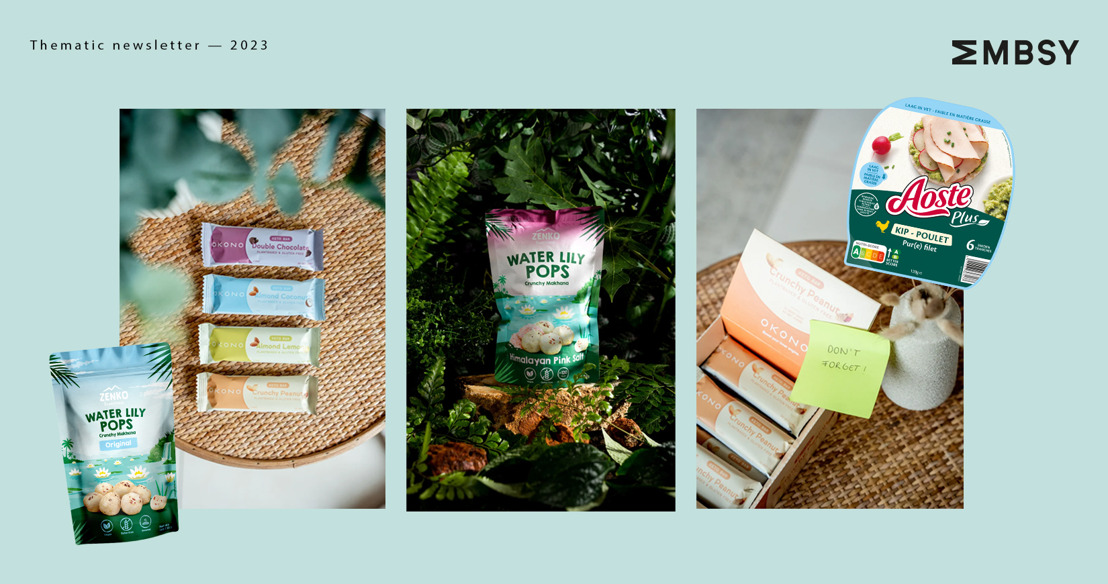 Better-for-you foods
Healthy & tasty in 2023
Looking to get healthier this year without compromising on deliciousness? Let us help you with that. When looking at emerging food trends, three key elements keep popping up: health, convenience, and environmental impact. Here are our top picks for the year ahead.
Healthy snacking on the go
Looking for a healthy low-carb snack on the go? OKONO has got you covered! After more than two years of research, the Belgian brand introduces a keto bar with only 3 grams of carbs. Because the bars are very low in carbohydrates they have virtually no impact on blood sugar levels, allowing you to satisfy your sugar cravings without the sugar dip. As a bonus, the bars are vegan, lactose, and gluten-free.
Better than popcorn
Looking for a tasty snack when binge-watching your favorite Netflix show, or for a special snack to accompany your next apero? Why not try the ancient superfoods of ZENKO? The Belgian company transforms superfoods into tasty, healthy, and sustainable snacks. Their light, crunchy snacks are traditionally roasted and puffed to preserve all nutrients. The "Water Lily Pops" - based on water lily seeds - are gluten-free, plant-based, and low in calories. Bonus: compared to traditional popcorn, Water Lily Pops contain less fat and calories and are twice as crunchy. Happy, healthy & carefree snacking!
Healthy & delicious lunch recipe with Nutri-Score A
Why stop at snacking when trying to eat healthier? As Belgians, we love our lunch sandwiches. Looking for a healthier alternative to your regular slice of salami? Go for Aoste Plus: the first and only meat slices on the market with Nutri-Score A. Both the Aoste Plus turkey and chicken fillet, as well as the cooked ham will receive the highest attainable nutritional label as of late January. By reducing the fat and salt content even further and by adding fiber, the Aoste Plus products achieved Nutri-Score A. Get inspired by the healthy and delicious lunch recipes from dietician, author & chef Michaël Sels (UZA) (pumpernickel toast with Aoste Plus chicken fillet, yellow pepper spread and vegetable sprouts) and healty foodie and Happy Nutri Coach Emilie (healthy lunch-wrap with Aoste Plus chicken fillet and fresh vegetables).
Boost your mood as the cherry on top
Stocking your pantry with all the yummy good stuff from above is a great way to usher in a healthier year. Why not add a stress-free cherry on top with Ganō Care's Mood Series?The series is a line of powerful CBD-based oils that restore your inner balance. Simply take a few drops to boost your mood in the new year, drop by drop!