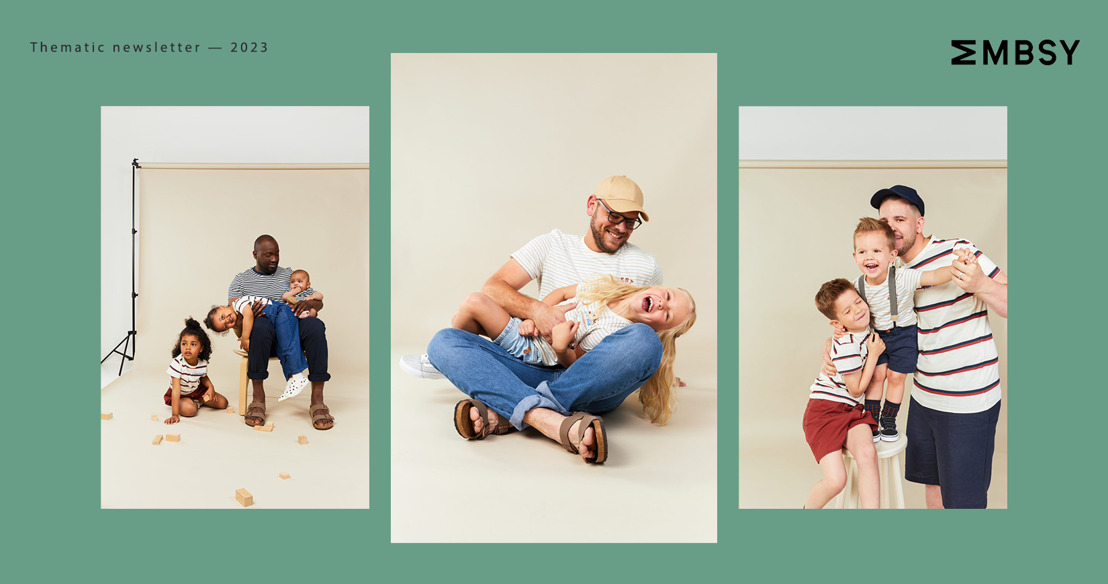 A cheesy dad jokes Father's Day!
Time to honor all the father figures in our lives and their funny/unfunny jokes we secretly love
Let's be honest: we need to express more love for the dad figures in our lives. Father's Day is the perfect moment to thank them for their good advice and of course their cheesy dad jokes. It's our turn to put a smile on dads' faces by surprising them with creative gifts that match their jokes.
---
Us: *Wear ripped jeans*
​Dad: "Did you get them half price off?"
Some dads just can't resist commenting on their offspring's outfit choices, but sometimes they too could use a little fashion advice. As a gift, you could gift a not-so-fashionable dad a wardrobe makeover. A nice pair of sneakers, trendy jeans, a colorful sweater or a matching shirt, for example. Or maybe a stylish watch and some other fun accessory like a new pair of glasses? Or maybe a great shampoo, because let's face it: his hair too could use a makeover ...
Campaign image: JBC
Bristol - BRAX - Lee Cooper - Floris van Bommel - Longines - Ralph Lauren at Pearle - Phyto
---
"Why did the golfer bring two pairs of pants?
​- In case he got a hole in one."
We all know them: the dads who go all out on the golf course, who love to sweat in the gym or who go for an early morning jog in the woods. You could please these men with a pair of solid hiking boots or a gym outfit. What a sporty father will also be happy with is an energizing fruity mix to boost his water. Want to be really creative? Routine boxes that stimulate performance and boost recovery are a super cool idea.
GOREWEAR at A.S.Adventure - Castelli at A.S.Adventure - Meindl at A.S.Adventure - Qallo - 2x Ganō Care - 2x Guess
---
Us: "Dad, I'm home."
​Dad: "Hi home, I'm Dad."
For the dads who prefer to spend their time on the sofa, ​ there are lot of options. A lovely armchair that he doesn't have to share with any family member, for example. If you want him to talk about your gift for the next few years? Then you should definitely go for a new colorful coffee machine that will allow him to wake up every day with a great cup of joe. A pair of colorful slippers that he can wear when he works in the garden is also a nice surprise. And although your father prefers to be at home, he might enjoy a nice family vacation. So a new suitcase that fits him perfectly is certainly a good one too, laughter guaranteed.
La Redoute Intérieurs - Freedom Moses - Bristol - Sage Appliances
---
Us: *Got sunburned on the family trip*
​Dad: "The lobster called, he wants his shade back."
And of course, there are also the dads who eagerly count down the days until summer. Because then they can go on vacation to a country far away or enjoy the sun with a refreshing drink. Fully prep dad for the summer and surprise him with a brightly colored shirt, a bottle of whiskey or some summery accessories like a new pair of sunglasses or a hat. Feel like giving him an unforgettable experience? Then gift him a camping trip. And no, it doesn't have to be very expensive. Did you know that A.S.Adventure has a summer rental service where you can rent everything for your trip? This way, you don't have to buy any camping equipment, but you can simply return the tent, sleeping bags and camping chairs after your vacation. The countdown to summer can officially begin!
Sun 68 - Highland Park - DbyD at Pearle -Faguo at Juttu
Campaign image: A.S.Adventure
Helinox at A.S.Adventure - Jack Wolfskin at A.S.Adventure - Ayacucho at A.S.Adventure