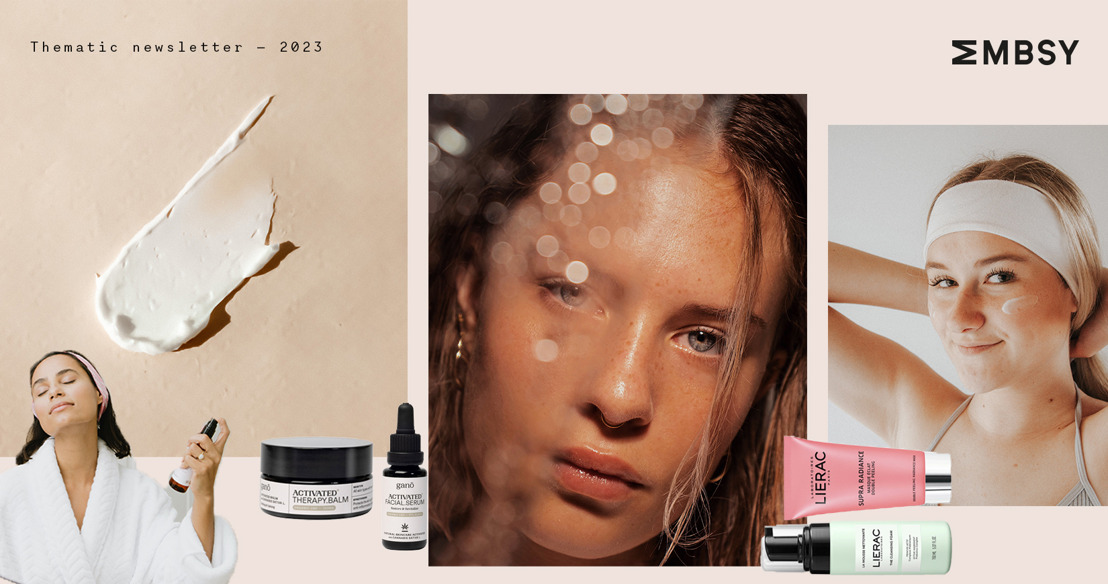 If you like to stay ahead of the skin care trends, you've come to the right place. We love a little forecasting on what to expect from the 2023 trends. Perhaps you're already ahead of the skin barrier or scalp care trend, or maybe you're looking for something new to mix up your beauty vibe. Either way, you might find a new flex to add to your repertoire from the 2023 skin care trends below.
1# Skin cycling
This TikTok trend was developed by New York dermatologist Dr. Whitney Bowe, and involves using alternating products on consecutive days. Her routine spans four nights, using active ingredients the first two nights and letting your skin rest the following two nights. This 'less is more' approach makes skin care easier and prevents skin irritation from too many skin care products.
So, how does the skin cycling routine work exactly? Well, you follow the same four steps each time for four consecutive nights:
Day 1: Exfoliate
The first night you exfoliate, preferably with a chemical exfoliant (Bowe advises to stay away from scrubs, as they strip too much and damage the skin layer underneath). This gives your skin an instant glow and prepares your skin for night two. After exfoliating, apply a moisturizer.
Day 2: Retinol
On the second night of the cycle, you apply retinol - a form of vitamin A. This antioxidant has many benefits. Among other things, it stimulates skin cell renewal and has a restorative effect. Be careful though: your skin often has to get used to this ingredient, and too much of it can sometimes cause irritation. So, smart dosage is key!
Day 3 & 4: Rest
Nights three and four are all about moisturizing and repairing. Stay away from exfoliants and other active ingredients during these two nights to allow your skin to recover. Go for a gentle cleanser and moisturizer with as few ingredients as possible that can irritate your skin.
2# Let your skin barrier breathe
Our skin has undergone a lot of changes in recent months (ah, years) thanks to a combination of too much time on our hands, new products, and our peaked interest in online beauty shopping. Changes in lifestyle, daily routine and an increase in stress can affect the skin's natural protective layer. In the new year, calming ingredients take center stage.
What exactly is this skin barrier that has been getting a lot of attention lately? The skin barrier keeps all the moisture in the skin and keeps harmful substances, such as bad bacteria, out. When the skin barrier is broken, the skin is prone to redness, acne, psoriasis and eczema. Keep your skin barrier balanced in the new year by treating it with plant-based products infused with Cannabis Sativa L., from the Antwerp based brand Ganō Care. This brand stands for beauty from within: effective products that contribute to a balanced body and mind. Their facial care moisturizes, protects and soothes the skin barrier while keeping impurities and irritations under control thanks to its anti-inflammatory properties of CBD.
3# It's all about the good bacteria
Pre- and probiotics are expected to become hot in skin care anno 2023. Supercharge your skin care routines with good bacteria to kick-start the repair process. The key is to regain that balanced microbiome and a calm, non-reactive skin. Pre- and probiotics are essential for restoring the skin barrier because they are gentle and stimulate the production of peptides, collagen, and ceramides in the skin. Cleansers from French dermocosmetic brand Lierac remove makeup while protecting your skin's natural bateria. Thanks to the wide range of different types, everyone will find their favorite formula in this line.
4# Better beauty
What do we mean when we talk about better beauty? We support transparency around the composition of skin care products, with brands breaking down their ingredients in a simple and concise way. We like straightforward products that do not contain harsh chemicals and offer clear benefits for our skin today. One of our favorite brands in this? Lierac, who leads by example with their Lift Integral line, as their focus is on a clean, natural ingredient list and real results with proven effectiveness. Lift Integral products focus on bringing back that firmness, elasticity, and resilience for a full lifting effect thanks to essential elements such as rose RNA, black tulip, and hyaluronic acid, whilst consisting of 98% natural ingredients.
5# Ceramides, peptides, oh my!
The whole beauty world has learnt its lesson about trending skin care topics through TikTok and ingredients like ceramides, peptides, blue tansy and chebula are planned to go viral soon. Per usual, Korean skin care set the trends and it's a good thing these are here to stay in 2023. This year's focus in Korean skin care products will be on ingredients like niacinamide, peptides, glycerin, and ceramides to protect your skin barrier at all costs (shocker). The French brand Jowaé combines antioxidants with elements of healing Asian plants, like the Sakura flower. Get your winter skin in mint condition by these components that will plump your skin and lock in moisture.
6# Skinification of your hair
We treat our skin with the greatest care (luckily), but often overlook our hair. Fortunately, we'll leave that behind in 2023, too. This year, our self-care will have new priorities and hair care will be all about repair and protection, focusing on the "skinification" of hair. Consumers will look for their favorite skin care ingredients, such as vitamins, and then integrate them into their haircare routine to have the best results. The Phytophanere supplements are perfect for this, as they strenghten your hair and give it more volume. Pair these capsules with the use of the Rebalancing Botanical Concentrate and the nourishing Day Cream to keep your hair in a hydrated and healthy condition. Only the best for your hair this year!
---
Find more inspiration in our pressroom.