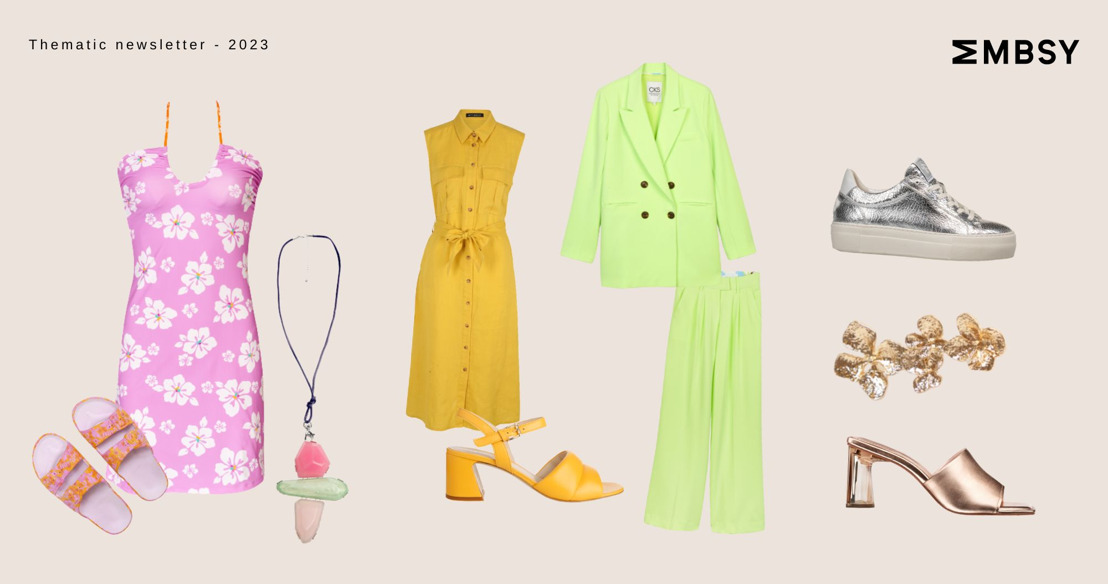 Spring Into Style
This spring, get ready for surfcore, monochrome pastels and metallics!
Spring is right around the corner and it's time to refresh your wardrobe with some exciting new trends. This season it's all about floral and colorful tints! The theme revolves around incorporating surf core, monochrome pastels, and metallic accents. Get ready to step out with our spring-inspired outfit ideas!
---
Surf Core
First up, let's dive into the Surf Core trend, think about the typical 90's Hawaiian floral prints on bikini's, shorts, skirts, and halter dresses. Complete the outfit with a beaded, fun-colored necklace, woven bag, and floral sandals and you're good to go!
Banana Moon (2x) - Freedom Moses
GUESS - BRAX - Banana Moon
CKS (2x) - Caroline Biss
Pastel Monochrome
Next, we're all about pastel monochrome looks this season. Soft hues of pink, lime green, orange, and yellow are everywhere, so why not try incorporating them into your wardrobe? A blazer paired with matching pants and platform heels makes for a bold statement, or opt for a more understated look with a top and denim shorts or skirt.
CKS (2x) - NEWD.Tamaris - Caroline Biss
CKS - Caroline Biss - Tamaris - GUESS
GUESS - Lee Cooper - NEWD.Tamaris - Caroline Biss
CKS (2x) – Caroline Biss - Betty Barclay
Metallic Mania
And finally, add some sparkle to your outfits with metallic accents. Whether it's sneakers flats or heels, metallic shoes are always a great way to add some shine to your look. Or pair your neutral tones with metallic jewelry for a chic and stylish look.
Tamaris - Floris Van Bommel (3x)
Veritas (2x)
---