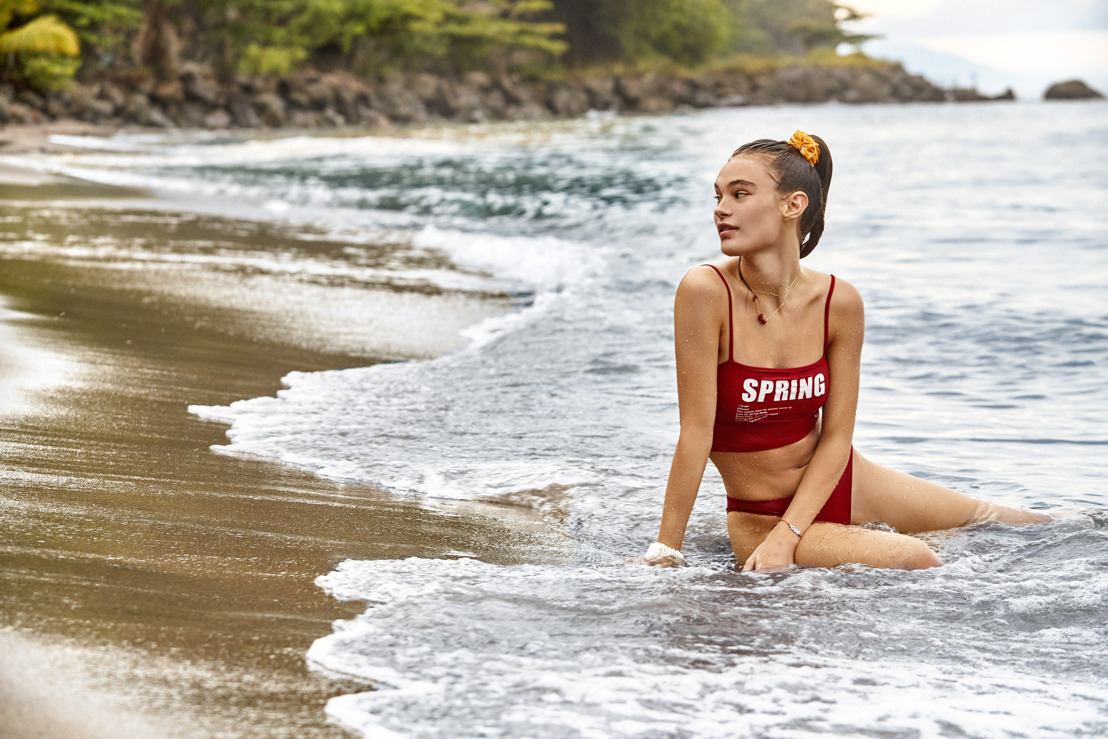 Let these SS20 swimwear trends persuade you to buy a ticket to the sun
If we can all agree on one thing, it's that life is definitely better at the beach. The warm sand between your toes, the cool sea breeze, the sun that kisses your skin... damn, I wish I booked that winter holiday after all!
The early bird discount prices for plane tickets are almost gone, so if you're still looking to book a ticket: the time is now. To help you along, we've listed the top 7 swimwear trends for SS20 so you know what to put in your shopping bag.  
#1 Sporty spice at the beach
The retro sporty look is back! We see vintage looks that combine sporty and casual beachwear popping up everywhere. So if you're a lover of vintage styles, you can even take your look to the beach.
Banana Moon
O'Neill
Speedo
GUESS Beachwear
#2 Earthy tones
Earthy coloured swimwear is the perfect way to celebrate life at the beach! From yellow like the summer sunshine to the blue of the horizon, nature is pervasive. An abundance of yellows, oranges, aqua and greens will make shine all summer long. Camel and chocolate come to warm up your summer.
Banana Moon
O'Neill
Chantelle Beachwear
Anita & Rosa Faia
GUESS Beachwear
#3 The little black bathing suit
We all know and love our little black dress: stylish, easy and a perfect fit. This summer you'll be able to rock the same confidence in your little black bathing suit.
Passionata Beachwear
Anita & Rosa Faia
O'Neill
Chantelle Beachwear
GUESS Beachwear
Speedo
Banana Moon
#4 Californian vibes
Release your inner Californian hippie this summer with some tie dye patterns, indigo colours or psychedelic prints! Add a touch of madness and surf this Californian wave with daring mixes of colors and prints in your swimwear wardrobe!
GUESS Beachwear
Banana Moon
O'Neill
Chantelle Beachwear
#5 Welcome to the jungle
...we've got fun and games! Take the roaring vibes of the jungle with you on your next holiday thanks to these swimsuits.
Anita & Rosa Faia
Banana Moon
GUESS Beachwear
Passionata Beachwear
Chantelle Beachwear
#6 Ahoy sailor!
The nautical trend continues to inspire this season. Two-tone stripes, blues and reds and anchor designs all make for a retro marine look.
Banana Moon
Anita & Rosa Faia
Elisabetta Franchi
Chantelle Beachwear
#7 Eco friendly swimming
As in all spectrums of our lives, we're becoming more and more concious about our environment and planet. So of course, when going for a dip in the ocean you want it to be as clean as possible. Luckily many swimwear brands have launched their own ecological line. A little more explanation:  
Rosa Faia
These ecological swimsuits from Rosa Faia are made with ECONYL®: 100% regenerated nylon fibre coming from fishernets and other nylon waste. This nylon is exactly the same as brand new nylon and can be recycled and reused again and again.
The sustainable watershort from Speedo
The watershort brings 90s vibes with a retro design, perfect for going from beach to street. Made with 100% recycled nylon, they look good and do a bit of good too.
O'Neill Blue
O'Neill wants to protect its 'playground': the ocean. That's why they strive to use materials that leave a minor impact on the environment. With the O'Neill Blue label, they ensure that a product is made with 30 to 99% of sustainable fabrics.
Banana Moon
For SS20 Banana Moon launches an eco friendly line. All fabrics are designed in an environmentally friendly approach and are made of 100% recycled polyamide.
---
Find more swimwear images here: Banana Moon, O'Neill, Speedo, Anita, Rosa Faia & Guess Beachwear, Passionata Beachwear, Chantelle Beachwear & Elisabetta Franchi
---
Eline Vervloet PR Manager, MMBSY