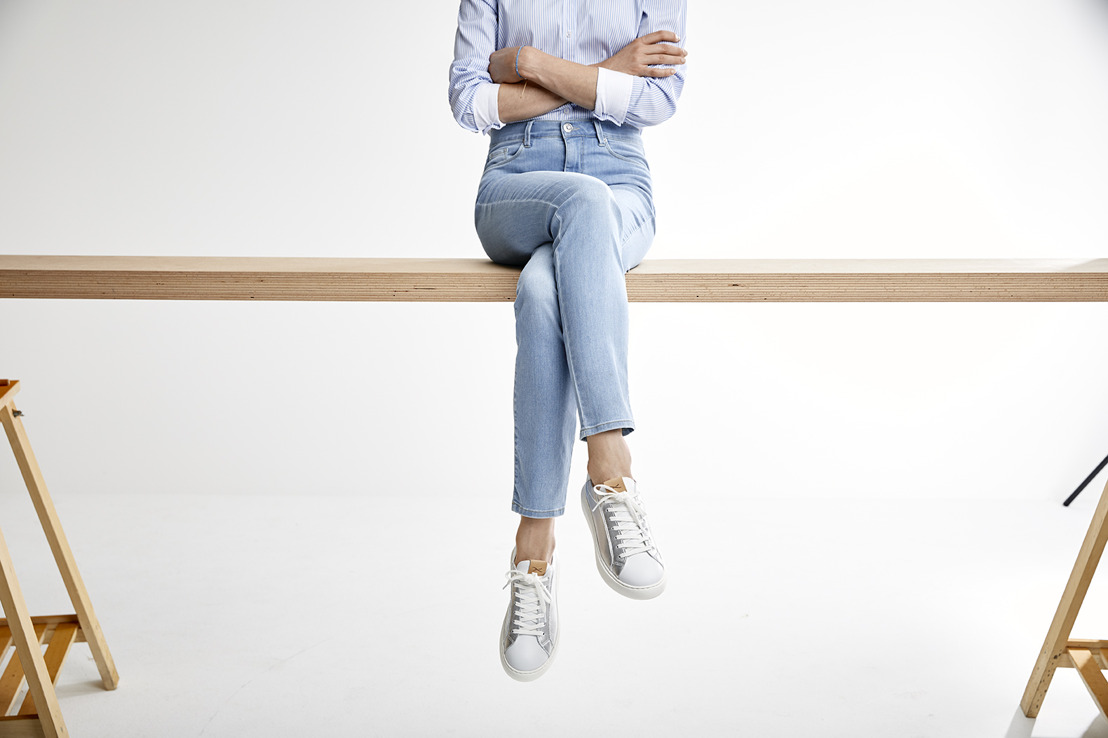 The year has just begun and we're already itching to see what freshest new trends spring/summer 2020 has to offer. Next season fashion provides us with a smorgasmbord of exciting new styles to look forward to (colored leather, waistcoats, and Bermuda shorts to name a few). Yet there's nothing we wear more than our trusty staple jeans, so why not update our denim as well? The SS20 runways showcased some refreshing new and old jean styles—from '70s flares to colourful washes and eco friendly denim. We're happy to give you the 411 on the 5 biggest jeanstrends of 2020.
Pastel
The cutest trend that makes you hungry for Easter and spring blossom trees is pastel denim. From mellow yellow to sugary pink, you can cover yourself in the happiest hues that'll even make the Easter Bunny jealous.
Miracles €119,95 - GUESS €99,90 - GUESS €89,90 - Mayerline €179
ECO Denim
A 'trend' that is here to stay is green jeans. And of course we're not talking about the colour here. We all know denim requires a lot of water in production. Our denim brands are fully aware of that and are making great efforts in making their jeans sustainable.
GUESS continues to reinforce its commitment to sustainability with this season's Eco Denim collection, in support of the brand's goal to offer 25% of its total denim selection as eco by 2021. This exclusive range uses innovative fibers such as LENZING™ ECOVERO™, which is made from certified renewable wood sources that undergo an eco-responsible production process which generates up to 50% lower greenhouse gas emissions and water usage compared to generic viscose.
GUESS JEANS eco €129.90 - €139.90 - €99,90
leECOoper

is determined to lower its impact on the environment. Whereas five years ago the brand needed 100 litres of water per pair of jeans, now it only consumes 6 litres.

Next season this will even be lowered to 2 litres

. In 2020, 25% of the energy consumed will be green thanks to the use of solar panels. The target is 100% in 2025. The use of chemicals has been reduced by half. Since 2018 the production is CO2 neutral. New in the collection is the use of

denim in its purest colour: ecru

, that way it doesn't have to go through the washing proces.
Lee Cooper €89,95 - Lee Cooper €59,95
The Blue Planet range from BRAX stands for sustainable products. The use of environmentally friendly technologies, such as laser and ozone, significantly reduces the consumption of water, chemicals and energy during manufacture of the jeans. Sustainable, without losing out on comfort and authenticity. BRAX also collaborates with the textile company Candiani Denim - the Greenest Mill in the Blue World.
BRAX Blue Planet : €99.95 - €99.95
Bootcut & Flared
If you're sick and tired of the skinny and super skinny jeans style, then you'll love the trousers that spring/summer 2020 has to offer: from farely wide to a pair of what-are-you-hiding-under-there jeans.
GUESS Jeans €99,90 - Caroline Biss €155 - Elisabetta Franchi €429 - Caroline Biss €155
Vintage inspired
From the 60's to the 90's vintage denim is on trend in all its forms: from a layered skirt to patchwork jeans. If they look like they could have been pulled straight out of a thrift store, then you've nailed the trend.
60's & 70's
GUESS Jeans €119,90 - Betty Barclay €79,99 - Caroline Biss €225 - Lee Cooper €99,95
80's & 90's
Lee Cooper €99,95 - GUESS Jeans €119,90 - GUESS Jeans €149,90 - GUESS €139,90
High waisted
From jeans that barely cover your belly button to pencil skirts that touch your bra: high waisted is more present that ever in next season's collections and we're all here for it.
Caroline Biss €150 - GUESS Jeans €109,90 - GUESS Jeans €109,90
Men
Forget about men? Never! The denim trends for men that we're most looking forward to is seeing him in stonewashed and distressed jeans.
Lee Cooper €69,95 - GUESS €109,90 - GUESS €139,90
You can find more packshots and campaign images here.