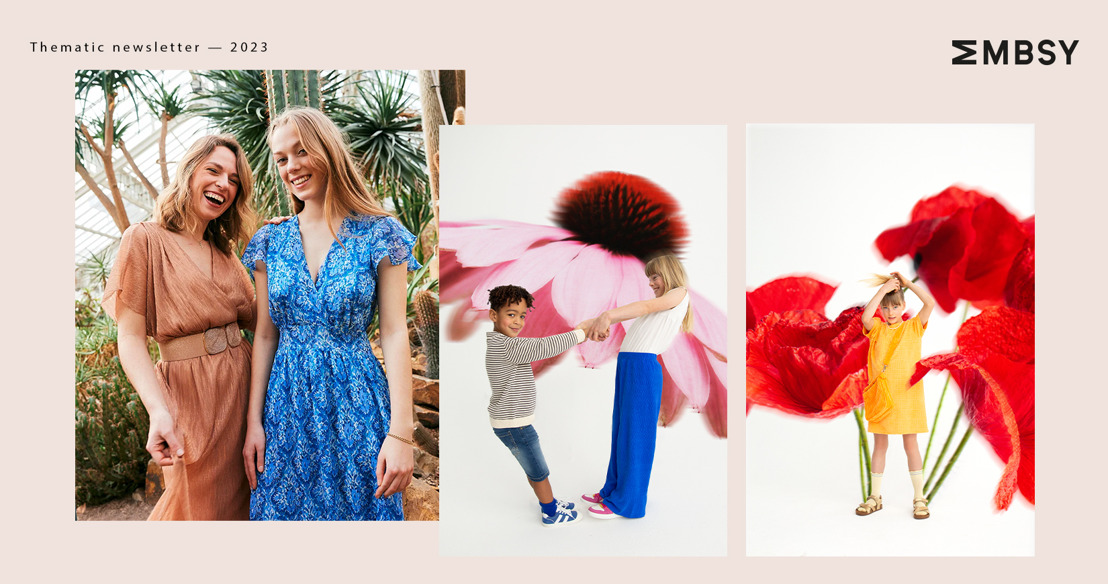 Happy Mother's Day!
Stepmoms, mothers-in-law, mother figures,… Let's celebrate the most important women in our lives!
Mother's Day, the perfect time to put all kinds of moms and mom figures in the spotlight and show them how grateful we truly are. This year, instead of colorful flowers, a box full of delicious chocolates or the classic I've-forgotten-your-gift-but-I-love-you hug, go all out with a bunch of other creative gifts. Get inspired and find the perfect present that will blow your mother (and your siblings) away.
For the cooler-than-me mom
Some moms just happen to be cooler, chiller and trendier than her kids. You can please these fashionistas with a trendy handbag, cool cowboy boots or the latest coffee machine so she can show off her barista skills. But you can also make her happy with skin care products like a new eye serum. Bye bye eye bags, hello cute purse!
GUESS - Bristol - Sage Appliances - The Ordinary
For the business mom
Then, of course, we have the mothers who spend most of their time not at home, but in the office. These moms know how to run a business and how to negotiate, but not always how to dress. Therefore, now is the perfect time to take the lead yourself and gift your mom a funky tailored suit, for example. Or create a classy look with a pair of sneakers and some nice earrings. Besides the look, the hair should be on fleek too. Surprise her with hair care products that condition her hair but also make it shine.
2x CKS - Phyto - Floris van Bommel - Lore Van Keer
For the sporty mom
Maybe your mom is a die hard sports enthusiast? One who sets her alarm at 6 a.m. to go jogging, goes swimming after work or puts on her hiking boots during the weekend for a long walk. For these mothers, you can score with a pair of hiking boots, a new bicycle bag or a matching sports set, and an energizing fruity mix to enhance the water in her bottle. Who says sports, also says recovery. Therefore, a skin care box to stimulate performance and boost recovery is also perfect as a gift.
2x A.S.Adventure - 2x Qallo - Ganō Care - 2x GUESS
For the single mom
Other moms relive their youth and are queens of the dating apps. These moms love to go crazy for a change. Gifting the perfect dating outfit is just ideal for them. Dosh them out with a bright dress, dainty heels and eye-catching jewelry. Let them glow all the way by using moisturizing skin products and a lovely perfume. Voila, now they are all set to impress their next crush.
LolaLiza - Roger&Gallet - Unisa - GUESS - Lierac
For the homebody mom
There are such mothers who don't need to travel to be happy. In fact: home is the place they love best. For these stay-at-home moms, you can't do much wrong. You'll put a smile on her face with trendy decorative pieces, funky glasses and colorful kitchen accessories. Of course, you can't decorate a home without family photos. A fun picture frame is ideal to keep your memories alive. But you can also make your mom happy with a bright and colorful pair of slippers that are ideal both in the house and in the garden. Looking for an easy, fun at-home activity to do together? Make your own bread for a change!
3x Juttu - La Redoute Intérieurs - Freedom Moses - Niamh
For the looks-always-on-the-bright-side-of-life mom
And then there are the optimistic mothers who always see the glass as half full. To switch up their rose-colored glasses through which they see life, surprise them with a different colorful pair or one with a print. Gift them a bright pink jumpsuit, a metallic bag, colorful printed scarf or cute heels that brighten up their day even more.
Unofficial (at Pearle) - Veritas - CKS - Unisa - Améline - Tamaris
---