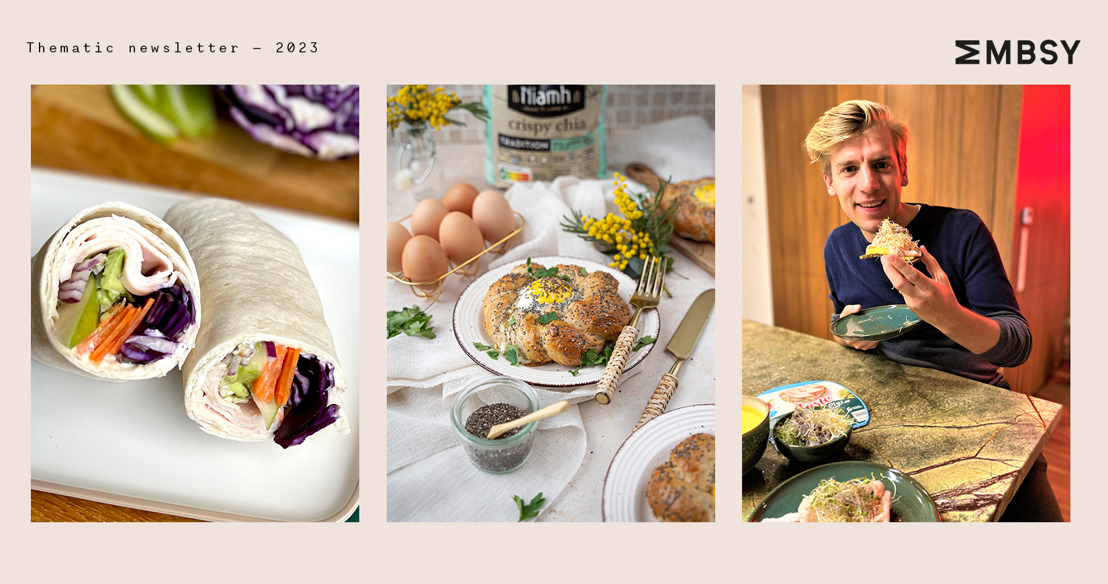 Bursting with flavor: fresh and delicious recipes for spring
3 spring recipes to celebrate the arrival of the season and to impress everyone at Easter brunch
Spring has almost arrived and Easter is already around the corner. And what better way to mark the occasion than with delicious food? We've gathered some of the most mouth-watering recipes for an unforgettable brunch. From pumpernickel toast with healthy chicken breast or a fresh and healthy lunch wrap to an Easter braid, there's something for everyone to enjoy. So gather your friends and family, and let's brunch in style!
Pumpernickel toast with Aoste Plus chicken breast, yellow bell pepper spread and vegetable sprouts - by Michael Sels, lead dietitian at UZA (Antwerp University Hospital), chef and author
About the recipe
Aoste Plus with Nutri-Score A allows you to enjoy a slice of meat on your toast in a healthy way, with less fat and salt, and richer in fiber.
Ingredients
4 slices of Aoste Plus chicken breast

2 pumpernickel bread slices

150 g grilled yellow bell bell pepper

200 g ricotta

Handful of sprouts

Pepper and salt
Recipe
Mix the ricotta and the bell pepper into a spread in the blender, season with salt and pepper

Toast the bread

Coat the bread with the spread

Spread the Aoste Plus chicken breast on top of the bread

Top with the sprouts and touch up!
Aoste Plus - €3,19
Healthy lunch wrap with Aoste Plus chicken breast and fresh vegetables - by Emilie, Happy Nutri Coach
About the recipe
Healthy lunch wraps with Aoste Plus are perfect for the conscious eater who likes to eat healthy without compromising on taste.
Ingredients
2 slices of Aoste Plus chicken breast

1 wrap

1/4 avocado

1/4 apple

1/4 red onion

1 handful of red cabbage strips

1 handful of carrot strips

2 tablespoons cream cheese

1/2 tsp of mustard

1 pinch of honey

Salt and pepper
Recipe
Mix the cream cheese with the mustard, honey, salt and pepper

Spread the mixture on the wrap

Garnish the wrap with the vegetables: red cabbage, carrots, apple, avocado, red onion

Add 2 thick slices of Aoste Plus chicken breast

Roll up the wrap and enjoy
Aoste Plus - €3,19
Easter braid with Niamh Chrispy Chia bread mix - by Simply Morane
About the recipe
Discover traditional bread baking with Niamh Tradition: add your own yeast, butter, salt and water to the baking mix and make inexpensive, easy and healthy bread with ingredients such as chia, quinoa and sunshine vitamin D, and with the Nutri-Score A label.
Ingredients (for 6 to 7 Easter braids)
500 g Crispy Chia mix

300 ml water

8 g salt

8 g dry yeast

15 g butter

Toppings: 6 to 7 eggs, chia seeds, parsley
Recipe
Put the yeast in a bowl, followed by the mix and butter. Finish with salt and water. Knead for 5 to 10 minutes with a food processor.

Let the dough rise for 40 minutes to 1 hour.

Knead the dough again and divide it into 6 to 7 portions. Roll these out into long sausages.

Cut each dough sausage in half lengthwise and braid the pieces together. Roll up each braid.

Let it rise again for 40 minutes.

Wet a spoon with water and press it into the center of each braid to form a cavity.

Crack a full egg into the cavity made.

Brush the remaining dough with beaten egg yolk.

Top with chia seeds and bake in the oven at 180° for 13 to 15 minutes.

Serve with some parsley, butter, cream cheese.
Niamh Tradition - € 6,99
---